Color Changing Umbrella
$ 24.99 USD

$ 24.99 USD

Save

$ 27.00 USD
---
---
This is a unique umbrella that comes to life in the rain! With a vibrant, color-changing design, you're sure to baffle passers-by as the strawberry pattern becomes multi-colored before their very eyes. Why would you buy a normal umbrella when you could brighten up any gloomy or rainy day with the color-changing umbrella?
Now you can make walking in the rain fun for everyone of all ages.
PRODUCT DESCRIPTION 
It's an umbrella that changes color as soon as it comes in contact with water. 

Made with high-quality material with mechanisms and anti-slip, soft-grip handle.

The design of this umbrella is realized with a special inks set: when it's dry the designs are white, but when it rains it becomes full of rainbow-like colors.

Compact and retractable for convenient carrying and transportation.

It can fit easily in your tote bag, glove compartment, rucksack or handbag. 
FEATURES
The design on this umbrella is white until the rain falls. 

It's functional, fun and with great visual impact.

As the umbrella dries, the designs revert to white. 

This is highly recyclable, durable and lightweight.

A great gift to wow friends and family.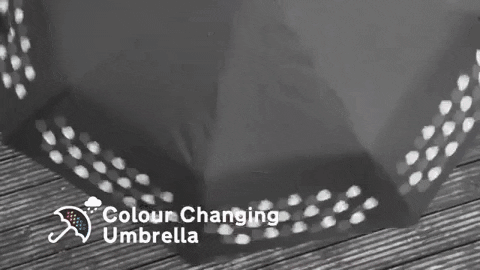 SPECIFICATIONS
Material: Metal, Nylon

Frame material: Aluminium alloy

Handle: Plastic

Color: Blue, Pink, White

Folding: Three-folding umbrella 

Control: Non-automatic
**Due to the massive global ordering this peak season, please allow for at least 2-4 weeks of shipping time for the delivery of your order.
Click ADD TO CART to Order Yours Now!
Satisfaction Guaranteed With Every Order. All prices are listed in USD.

People who bought this product, also bought